Events
Every Tuesday from 11AM to 12Noon
TUESDAY IS FOR TODDLERS
Every Tuesday 11AM to Noon
Moms…bring your kids up to toddler age to Meadowbrook Mall every Tuesday morning from 11am until Noon for FREE activities, the opportunity to interact with other kids their age and loads of fun!
Please visit the Mall Guest Services Desk for details on weekly activities and location of events. TUESDAY IS FOR TODDLERS is sponsored by UniCare Health Plan of West Virginia, Inc. ® Registered mark of WellPoint, Inc.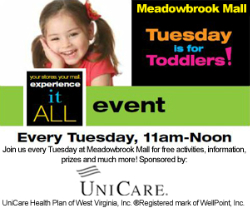 Arrives at 11am on March 28th
Visit with the Easter Bunny
March 28-April 19, 2014 by the giant Easter Egg in WDTV5 Event Center
Visit the Easter Bunny and have your photo taken with him beside the giant Easter Egg in WDTV5 Event Center beginning March 28th! Each child visiting the Easter Bunny will receive a FREE gift, while supplies last. The Easter Bunny will be available every day thru Saturday, April 19, 2014.
Easter Bunny Hours:
Mon-Fri 11AM - 8pm (Break from 3PM - 3:45PM)
Sat 11AM - 8PM (No breaks)
Sun 11AM - 6PM (No breaks)
April 16th - April 19th hours are 10AM - 9PM (No breaks)