Events
Every Tuesday from 11AM to 12Noon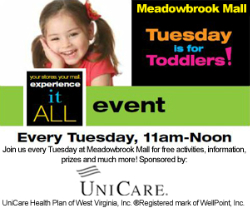 Bring the kids to Meadowbrook Mall each Tuesday from 11AM to 12Noon for TUESDAY IS FOR TODDLERS! The FREE program, sponsored by UniCare Health Plan of WV, Inc., offers activities, entertainment & prizes for children up to age 8. Visit us on Facebook https://www.facebook.com/meadowbrookmall , visit the Customer Service Desk or call 304.842.5441 Ext. 0 for details on event location and activity planned for each week.

10AM to 6PM
Monday, May 25, 2015
Meadowbrook Mall will be open on Memorial Day, May 25, from 10AM to 6PM for your shopping convenience. Department Store hours may vary.
7:30AM - 1PM
Wednesday, May 27, 2015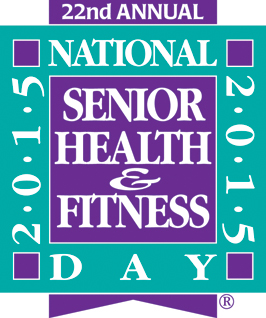 Presented by the Harrison County YMCA & Mountain State Medical Specialties, Inc.
Join us for Senior Day Health & Fitness on May 27 from 7:30AM to 1PM. The first 100 to register at the Food Court entrance, beginning at 7:30AM, will receive a FREE Tote Bag, while supplies last.
Additional vendors include Bridgeport Lion's Club, Chiropractic Care Center-Dr. Mason, Evergreen Fly Fishing, Mountain State Dermatology and more!
7:30AM-1PM Multiphasic blood screening $45 - check or cash only (12-hour fasting recommended. Additional blood screenings also available.)
7:30AM-1PM FREE Screenings including skin cancer, vision, chiropractic, pulmonary, finger sticks and blood pressure
9AM Tai Chi Class by YMCA
10AM Silver Sneakers Class YMCA
11AM Zumba Gold Class by In Step School of Dance
12Noon Bingo (in Food Court)