Events
March 27-December 31, 2014 During Mall hours
Social Media Contests
RULES & REGULATIONS:
1. Prizes – Gift cards are ONLY valid when spent within their respective mall complex. There will be no cash substitute for prizes.
2. Eligibility - No purchase necessary. Only users who "like" the mall's Facebook page will be considered for entry. Limited to one (1) entry per person. Must be eighteen (18) years or older to participate.
Only entries submitted prior to the specified deadline will be eligible for entry. Entries will be posted at the discretion of the contest sponsor; any entries deemed to be inappropriate will be automatically disqualified.
3. Prize Rewarding – Contestants may be required to provide contact information for the purpose of notifying contest winners. Winners will first be contacted via email, with a social media announcement to follow. Should winners fail to claim their prize within fourteen (14) days, a new winner may be named.
4. Entry – All submissions are an official agreement to the use of the submitted text/photo among the company website and/or social media sites.
5. Voting – If contest involves voting by the social media community, ONLY votes that comply with the outlined rules will be considered valid.
Voting is limited to ONE (1) vote per person!
Entrants are encouraged to "share" the contest page and/or photo album in order to earn more votes. The more people an entrant persuades to vote, the better their chances of winning!
Please note: Votes MUST NOT be cast by illegitimate or fabricated profiles. Should said action(s) be suspected, the contestant in question will be investigated. If foul play is evident and/or alleged beyond a reasonable doubt, said contestant shall be hereby disqualified and banned. Please refer to section 7.
6. How We Choose Our Winners – Contestants will be selected based upon the outlined selection procedures (please see voting guidelines in the section above). In the event of a tie, a "tie-breaker" round may be initiated.
7. Cheating/Foul Play - Any participant who is caught in the blatant act of cheating will be immediately disqualified and banned; more so, any contestant who actively partakes in suspicious behavior will be thoroughly investigated. If foul play is suspected beyond a reasonable doubt, said contestant shall be banned from the contest, as well as the mall's social media page(s). Cheating/suspicious behavior includes, but is not limited to: the creation of fake profiles, self-generated votes, the use of stolen intellectual properties, the submission of work not original to the entrant, and/or known infamy of false or deceitful practices. Should a winning entrant be found guilty of above activities, his/her prize shall be revoked, and legal actions may be taken.
This promotion is in no way sponsored, endorsed, administered by, or associated with Facebook.
Contest rules and regulations are subject to change.
By submitting your entry, you are consenting to the use of said entities on a public domain.
Every Tuesday from 11AM to 12Noon
TUESDAY IS FOR TODDLERS
Every Tuesday 11AM to Noon
Moms…bring your kids up to toddler age to Meadowbrook Mall every Tuesday morning from 11am until Noon for FREE activities, the opportunity to interact with other kids their age and loads of fun!
Please visit the Mall Guest Services Desk for details on weekly activities and location of events. TUESDAY IS FOR TODDLERS is sponsored by UniCare Health Plan of West Virginia, Inc. ® Registered mark of WellPoint, Inc.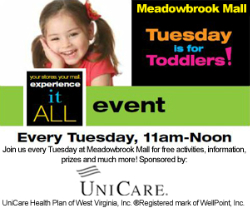 See daily hours below
The Fun on Wheels Railroad is now open! Tickets available at the train depot near Old Navy. The train also has an "Abilities Car" that's wheelchair accessible!
Train hours Mon. 4pm-8:30pm, Tues. 11:30am-1pm & 4pm-8:30pm, Wed. 4pm-8:30pm, Thurs. thru Sat. 11am-8:30pm and Sundays 11am-6pm. For details stop by the Customer Service Desk.